About Us
Taj Mahal is a Fast Food takeaway in Castleford. Why don't you try our Barbeque or Prawn Omelette?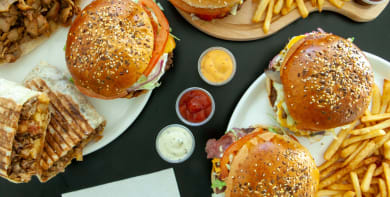 Reviews
182 reviews
Mo
"The food was hot and delicious. Portion size was just right. Would order again."
26/01/2021
Becky
"Perfect food as usual but korma sauce was missing honest mistake and enjoyed it anyway"
22/01/2021
Kevin
"Excellent"
16/01/2021
Joanne
"Food was hot delivery guy was polite and very welcoming will order again"
15/01/2021
Menu
Tikka Starter - Chicken
Off the bone
£5.70
Relish Burger Half Pounder
Relish & lettuce
£5.60
Relish Burger Quarter Pounder
Relish & lettuce
£4.60
Relish Burger Triple Pounder
Relish & lettuce
£6.60
Special Taj Burger Half Pounder
Pineapple, cheese, donner meat & lettuce
£6.40
Special Taj Burger Quarter Pounder
Pineapple, cheese, donner meat & lettuce
£5.40
Special Taj Burger Triple Pounder
Pineapple, cheese, donner meat & lettuce
£7.40
Tower Burger - Quarter Pounder
Chicken fillet, hash brown & lettuce
£5.80
Donner Burger Half Pounder
Beef burger with donner meat & lettuce
£6.10
Donner Burger Quarter Pounder
Beef burger with donner meat & lettuce
£5.10
Donner Burger Triple Pounder
Beef burger with donner meat & lettuce
£7.10
Donner Butty (Plain) - Quarter Pounder
£4.30
Coleslaw Burger Half Pounder
Fresh coleslaw & lettuce
£5.60
Coleslaw Burger Quarter Pounder
Fresh coleslaw & lettuce
£4.60
Coleslaw Burger Triple Pounder
Fresh coleslaw & lettuce
£6.60
Garlic Burger Half Pounder
Garlic butter & lettuce
£5.60
Garlic Burger Quarter Pounder
Garlic butter & lettuce
£4.60
Garlic Burger Triple Pounder
Garlic butter & lettuce
£6.60
Hawaiian Burger Half Pounder
Lettuce, pineapple & cheese
£5.60
Hawaiian Burger Quarter Pounder
Lettuce, pineapple & cheese
£4.60
Hawaiian Burger Triple Pounder
Lettuce, pineapple & cheese
£6.60
Deluxe Burger (Plain) Half Pounder
£5.30
Deluxe Burger (Plain) Quarter Pounder
£4.30
Deluxe Burger (Plain) Triple Pounder
£6.30
Cheeseburger Half Pounder
Cheese & lettuce
£5.60
Cheeseburger Quarter Pounder
Cheese & lettuce
£4.60
Cheeseburger Triple Pounder
Cheese & lettuce
£6.60
Chicken Burger Half Pounder
A prime breast of chicken coasted in breadcrumbs served with lettuce & mayo
£5.90
Chicken Burger Quarter Pounder
A prime breast of chicken coasted in breadcrumbs served with lettuce & mayo
£4.90
Chicken Burger Triple Pounder
A prime breast of chicken coasted in breadcrumbs served with lettuce & mayo
£6.90
Chicken Fillet Burger Half Pounder
Lettuce & mayo
£6.30
Chicken Fillet Burger Quarter Pounder
Lettuce & mayo
£5.30
Chicken Fillet Burger Triple Pounder
Lettuce & mayo
£7.30
Chilli Burger Half Pounder
Chilli sauce & lettuce
£5.60
Chilli Burger Quarter Pounder
Chilli sauce & lettuce
£4.60
Chilli Burger Triple Pounder
Chilli sauce & lettuce
£6.60
Bolognese Burger Half Pounder
Bolognese sauce & lettuce
£5.60
Bolognese Burger Quarter Pounder
Bolognese sauce & lettuce
£4.60
Bolognese Burger Triple Pounder
Bolognese sauce & lettuce
£6.60
American Burger Half Pounder
Beef burger with fries onions & ketchup
£5.80
American Burger Quarter Pounder
Beef burger with fries onions & ketchup
£4.80
American Burger Triple Pounder
Beef burger with fries onions & ketchup
£6.80
Barbeque Pizza 11" Deep
BBQ sauce & chicken
£8.80
Barbeque Pizza 11" Thin
BBQ sauce & chicken
£7.80
Barbeque Pizza 16" Thin
BBQ sauce & chicken
£11.30
Al Funghi Pizza 11" Deep
Mushrooms
£7.80
Al Funghi Pizza 11" Thin
Mushrooms
£6.80
Al Funghi Pizza 16" Thin
Mushrooms
£10.30
Bolognese Pizza 11" Deep
Our own freshly made bolognese sauce & onions. A real chin dipper
£8.30
Bolognese Pizza 11" Thin
Our own freshly made bolognese sauce & onions. A real chin dipper
£7.00
Bolognese Pizza 16" Thin
Our own freshly made bolognese sauce & onions. A real chin dipper
£11.30
Cheese & Onion Pizza 11" Deep
£7.80
Cheese & Onion Pizza 11" Thin
£6.80
Cheese & Onion Pizza 16" Thin
£10.30
Chilli Pizza 11" Deep
Green peppers, chilli & lots of spices
 
£8.30
Chilli Pizza 11" Thin
Green peppers, chilli & lots of spices
 
£7.00
Chilli Pizza 16" Thin
Green peppers, chilli & lots of spices
 
£11.30
Hot & Spicy Pizza 11" Deep
Spicy chicken, green peppers, onions, red chillies & fresh tomatoes
£8.00
Hot & Spicy Pizza 11" Thin
Spicy chicken, green peppers, onions, red chillies & fresh tomatoes
£7.00
Hot & Spicy Pizza 16" Thin
Spicy chicken, green peppers, onions, red chillies & fresh tomatoes
£11.30
Hot Shot Pizza 11" Deep
Pepperoni, onions, red hot chillies & green peppers
£8.00
Hot Shot Pizza 11" Thin
Pepperoni, onions, red hot chillies & green peppers
£7.00
Hot Shot Pizza 16" Thin
Pepperoni, onions, red hot chillies & green peppers
£11.30
Garlic Margherita Pizza 11" Deep
Garlic, tomato & Italian herbs
£7.80
Garlic Margherita Pizza 11" Thin
Garlic, tomato & Italian herbs
£6.80
Garlic Margherita Pizza 16" Thin
Garlic, tomato & Italian herbs
£9.80
Vegetable Special Pizza 11" Deep
Green peppers, onions, sweetcorn, mushrooms, tomatoes & pineapple
£8.00
Vegetable Special Pizza 11" Thin
Green peppers, onions, sweetcorn, mushrooms, tomatoes & pineapple
£7.00
Vegetable Special Pizza 16" Thin
Green peppers, onions, sweetcorn, mushrooms, tomatoes & pineapple
£11.30
Tropicana Pizza 11" Deep
Pineapple & sweetcorn
£8.00
Tropicana Pizza 11" Thin
Pineapple & sweetcorn
£7.00
Tropicana Pizza 16" Thin
Pineapple & sweetcorn
£11.30
Toscana Pizza 11" Deep
Pepperoni, mushrooms & onions
£8.30
Toscana Pizza 11" Thin
Pepperoni, mushrooms & onions
£7.00
Toscana Pizza 16" Thin
Pepperoni, mushrooms & onions
£11.30
Zingara Pizza 11" Deep
Salami, mushrooms & green peppers
£8.00
Zingara Pizza 11" Thin
Salami, mushrooms & green peppers
£7.00
Zingara Pizza 16" Thin
Salami, mushrooms & green peppers
£11.30
Mexican Pizza 11" Deep
Spicy ground beef, onions, green peppers, hot chillies & pepperoni
£8.30
Mexican Pizza 11" Thin
Spicy ground beef, onions, green peppers, hot chillies & pepperoni
£7.00
Mexican Pizza 16" Thin
Spicy ground beef, onions, green peppers, hot chillies & pepperoni
£11.30
Meat Feast Pizza 11" Deep
Pepperoni, salami, chicken & donner meat
£8.00
Meat Feast Pizza 11" Thin
Pepperoni, salami, chicken & donner meat
£7.00
Meat Feast Pizza 16" Thin
Pepperoni, salami, chicken & donner meat
£11.30
Margherita Pizza 11" Deep
Cheese, tomato & Italian herbs
£7.30
Margherita Pizza 11" Thin
Cheese, tomato & Italian herbs
£6.30
Margherita Pizza 16" Thin
Cheese, tomato & Italian herbs
£9.30
Salami Pizza 11" Deep
The best salami
£8.00
Salami Pizza 11" Thin
The best salami
£7.00
Salami Pizza 16" Thin
The best salami
£11.30
Pollo Pizza 11" Deep
Chicken & sweetcorn
£8.00
Pollo Pizza 11" Thin
Chicken & sweetcorn
£7.00
Pollo Pizza 16" Thin
Chicken & sweetcorn
£11.30
Pepperoni Pizza 11" Deep
Pepperoni
£8.00
Pepperoni Pizza 11" Thin
Pepperoni
£7.00
Pepperoni Pizza 16" Thin
Pepperoni
£11.30
Pollo Funghi Pizza 11" Deep
Chicken & mushroom
£8.00
Pollo Funghi Pizza 11" Thin
Chicken & mushroom
£7.00
Pollo Funghi Pizza 16" Thin
Chicken & mushroom
£11.30
Quattro Formaggi Pizza 11" Deep
Four different cheeses
£8.80
Quattro Formaggi Pizza 11" Thin
Four different cheeses
£7.80
Quattro Formaggi Pizza 16" Thin
Four different cheeses
£11.30
Vindaloo Beef
A South Indian dish known for its rich hot taste. Black peppers, lemon, garlic, red chilli & strong spices. Extravagantly hot
Hot
£7.30
Vindaloo Chicken
A South Indian dish known for its rich hot taste. Black peppers, lemon, garlic, red chilli & strong spices. Extravagantly hot
Hot
£7.30
Vindaloo Keema
A South Indian dish known for its rich hot taste. Black peppers, lemon, garlic, red chilli & strong spices. Extravagantly hot
Hot
£7.30
Vindaloo King Prawn
A South Indian dish known for its rich hot taste. Black peppers, lemon, garlic, red chilli & strong spices. Extravagantly hot
Hot
£7.30
Vindaloo Mushroom
A South Indian dish known for its rich hot taste. Black peppers, lemon, garlic, red chilli & strong spices. Extravagantly hot
Hot
£7.30
Vindaloo Prawn
A South Indian dish known for its rich hot taste. Black peppers, lemon, garlic, red chilli & strong spices. Extravagantly hot
Hot
£7.30
Vindaloo Vegetable
A South Indian dish known for its rich hot taste. Black peppers, lemon, garlic, red chilli & strong spices. Extravagantly hot
Hot
£7.30
Rogan Josh Beef
A special preparation extremely prepared with pimento, garlic & peppers, garnished with tomatoes & coriander
Medium
£7.30
Rogan Josh Chicken
A special preparation extremely prepared with pimento, garlic & peppers, garnished with tomatoes & coriander
Medium
£7.30
Rogan Josh Keema
A special preparation extremely prepared with pimento, garlic & peppers, garnished with tomatoes & coriander
Medium
£7.30
Rogan Josh King Prawn
A special preparation extremely prepared with pimento, garlic & peppers, garnished with tomatoes & coriander
Medium
£7.30
Rogan Josh Mushroom
A special preparation extremely prepared with pimento, garlic & peppers, garnished with tomatoes & coriander
Medium
£7.30
Rogan Josh Prawn
A special preparation extremely prepared with pimento, garlic & peppers, garnished with tomatoes & coriander
Medium
£7.30
Rogan Josh Vegetable
A special preparation extremely prepared with pimento, garlic & peppers, garnished with tomatoes & coriander
Medium
£7.30
Pathia Beef
Extensive use of garlic, onions, tomato puree, red chilli & black pepper. A good alternative to madras or vindaloo
Sweet & hot
£7.30
Pathia Chicken
Extensive use of garlic, onions, tomato puree, red chilli & black pepper. A good alternative to madras or vindaloo
Sweet & hot
£7.30
Pathia Keema
Extensive use of garlic, onions, tomato puree, red chilli & black pepper. A good alternative to madras or vindaloo
Sweet & hot
£7.30
Pathia King Prawn
Extensive use of garlic, onions, tomato puree, red chilli & black pepper. A good alternative to madras or vindaloo
Sweet & hot
£7.30
Pathia Mushroom
Extensive use of garlic, onions, tomato puree, red chilli & black pepper. A good alternative to madras or vindaloo
Sweet & hot
£7.30
Pathia Prawn
Extensive use of garlic, onions, tomato puree, red chilli & black pepper. A good alternative to madras or vindaloo
Sweet & hot
£7.30
Pathia Vegetable
Extensive use of garlic, onions, tomato puree, red chilli & black pepper. A good alternative to madras or vindaloo
Sweet & hot
£7.30
Madras Beef
A South Indian dish where a great proportion of tomato puree & strong spices are used giving a fiery taste to its richness
Medium to hot
£7.30
Madras Chicken
A South Indian dish where a great proportion of tomato puree & strong spices are used giving a fiery taste to its richness
Medium to hot
£7.30
Madras Keema
A South Indian dish where a great proportion of tomato puree & strong spices are used giving a fiery taste to its richness
Medium to hot
£7.30
Madras King Prawn
A South Indian dish where a great proportion of tomato puree & strong spices are used giving a fiery taste to its richness
Medium to hot
£7.30
Madras Mushroom
A South Indian dish where a great proportion of tomato puree & strong spices are used giving a fiery taste to its richness
Medium to hot
£7.30
Madras Prawn
A South Indian dish where a great proportion of tomato puree & strong spices are used giving a fiery taste to its richness
Medium to hot
£7.30
Madras Vegetable
A South Indian dish where a great proportion of tomato puree & strong spices are used giving a fiery taste to its richness
Medium to hot
£7.30
Massala Beef
Onions, peppers, fresh tomatoes & coriander fried together with selected spices & herbs to provide a dry dish of medium strength
Medium
£7.30
Massala Chicken
Onions, peppers, fresh tomatoes & coriander fried together with selected spices & herbs to provide a dry dish of medium strength
Medium
£7.30
Massala Keema
Onions, peppers, fresh tomatoes & coriander fried together with selected spices & herbs to provide a dry dish of medium strength
Medium
£7.30
Massala King Prawn
Onions, peppers, fresh tomatoes & coriander fried together with selected spices & herbs to provide a dry dish of medium strength
Medium
£7.30
Massala Mushroom
Onions, peppers, fresh tomatoes & coriander fried together with selected spices & herbs to provide a dry dish of medium strength
Medium
£7.30
Massala Prawn
Onions, peppers, fresh tomatoes & coriander fried together with selected spices & herbs to provide a dry dish of medium strength
Medium
£7.30
Massala Vegetable
Onions, peppers, fresh tomatoes & coriander fried together with selected spices & herbs to provide a dry dish of medium strength
Medium
£7.30
Curry Beef
This dish is produced from a wide but basic range of Eastern spices producing a rice flavour
Medium
£7.30
Curry Chicken
This dish is produced from a wide but basic range of Eastern spices producing a rice flavour
Medium
£7.30
Curry Keema
This dish is produced from a wide but basic range of Eastern spices producing a rice flavour
Medium
£7.30
Curry King Prawn
This dish is produced from a wide but basic range of Eastern spices producing a rice flavour
Medium
£7.30
Curry Mushroom
This dish is produced from a wide but basic range of Eastern spices producing a rice flavour
Medium
£7.30
Curry Prawn
This dish is produced from a wide but basic range of Eastern spices producing a rice flavour
Medium
£7.30
Curry Vegetable
This dish is produced from a wide but basic range of Eastern spices producing a rice flavour
Medium
£7.30
Bhuna Beef
A thoroughly garnished dish with onions, garlic, tomatoes, chilli & selected spices, coriander. Extensively flavoured, palatable to every kind of constitution
Medium
£7.30
Bhuna Chicken
A thoroughly garnished dish with onions, garlic, tomatoes, chilli & selected spices, coriander. Extensively flavoured, palatable to every kind of constitution
Medium
£7.30
Bhuna Keema
A thoroughly garnished dish with onions, garlic, tomatoes, chilli & selected spices, coriander. Extensively flavoured, palatable to every kind of constitution
Medium
£7.30
Bhuna King Prawn
A thoroughly garnished dish with onions, garlic, tomatoes, chilli & selected spices, coriander. Extensively flavoured, palatable to every kind of constitution
Medium
£7.30
Bhuna Mushroom
A thoroughly garnished dish with onions, garlic, tomatoes, chilli & selected spices, coriander. Extensively flavoured, palatable to every kind of constitution
Medium
£7.30
Bhuna Prawn
A thoroughly garnished dish with onions, garlic, tomatoes, chilli & selected spices, coriander. Extensively flavoured, palatable to every kind of constitution
Medium
£7.30
Bhuna Vegetable
A thoroughly garnished dish with onions, garlic, tomatoes, chilli & selected spices, coriander. Extensively flavoured, palatable to every kind of constitution
Medium
£7.30
Dhansak Beef
A beautiful combination of spices with pineapple, lentils, coriander & garlic to produce a sweet & sour taste. A popular dish of Persian origin
Sweet & sour
£7.30
Dhansak Chicken
A beautiful combination of spices with pineapple, lentils, coriander & garlic to produce a sweet & sour taste. A popular dish of Persian origin
Sweet & sour
£7.30
Dhansak Keema
A beautiful combination of spices with pineapple, lentils, coriander & garlic to produce a sweet & sour taste. A popular dish of Persian origin
Sweet & sour
£7.30
Dhansak King Prawn
A beautiful combination of spices with pineapple, lentils, coriander & garlic to produce a sweet & sour taste. A popular dish of Persian origin
Sweet & sour
£7.30
Dhansak Mushroom
A beautiful combination of spices with pineapple, lentils, coriander & garlic to produce a sweet & sour taste. A popular dish of Persian origin
Sweet & sour
£7.30
Dhansak Prawn
A beautiful combination of spices with pineapple, lentils, coriander & garlic to produce a sweet & sour taste. A popular dish of Persian origin
Sweet & sour
£7.30
Dhansak Vegetable
A beautiful combination of spices with pineapple, lentils, coriander & garlic to produce a sweet & sour taste. A popular dish of Persian origin
Sweet & sour
£7.30
Dopiaza Beef
A maximum quantity of onions, seasoned & freshly applied with dozens of spices to produce a taste that is medium hot. Garnished with coriander
Medium
£7.30
Dopiaza Chicken
A maximum quantity of onions, seasoned & freshly applied with dozens of spices to produce a taste that is medium hot. Garnished with coriander
Medium
£7.30
Dopiaza Keema
A maximum quantity of onions, seasoned & freshly applied with dozens of spices to produce a taste that is medium hot. Garnished with coriander
Medium
£7.30
Dopiaza King Prawn
A maximum quantity of onions, seasoned & freshly applied with dozens of spices to produce a taste that is medium hot. Garnished with coriander
Medium
£7.30
Dopiaza Mushroom
A maximum quantity of onions, seasoned & freshly applied with dozens of spices to produce a taste that is medium hot. Garnished with coriander
Medium
£7.30
Dopiaza Prawn
A maximum quantity of onions, seasoned & freshly applied with dozens of spices to produce a taste that is medium hot. Garnished with coriander
Medium
£7.30
Dopiaza Vegetable
A maximum quantity of onions, seasoned & freshly applied with dozens of spices to produce a taste that is medium hot. Garnished with coriander
Medium
£7.30
Korma Beef
A delicate preparation of coconut, cream, sugar & spices producing a very mild but rich, creamy texture & flavour palatable to every kind of constitution. May contain nuts
Mild
£7.30
Korma Chicken
A delicate preparation of coconut, cream, sugar & spices producing a very mild but rich, creamy texture & flavour palatable to every kind of constitution. May contain nuts
Mild
£7.30
Korma Keema
A delicate preparation of coconut, cream, sugar & spices producing a very mild but rich, creamy texture & flavour palatable to every kind of constitution. May contain nuts
Mild
£7.30
Korma King Prawn
A delicate preparation of coconut, cream, sugar & spices producing a very mild but rich, creamy texture & flavour palatable to every kind of constitution. May contain nuts
Mild
£7.30
Korma Mushroom
A delicate preparation of coconut, cream, sugar & spices producing a very mild but rich, creamy texture & flavour palatable to every kind of constitution. May contain nuts
Mild
£7.30
Korma Prawn
A delicate preparation of coconut, cream, sugar & spices producing a very mild but rich, creamy texture & flavour palatable to every kind of constitution. May contain nuts
Mild
£7.30
Korma Vegetable
A delicate preparation of coconut, cream, sugar & spices producing a very mild but rich, creamy texture & flavour palatable to every kind of constitution. May contain nuts
Mild
£7.30
Donner Pizza 11" Deep
Pizza cheese, tomato & donner meat
£8.80
Donner Pizza 11" Thin
Pizza cheese, tomato & donner meat
£7.80
Donner Pizza 16" Thin
Pizza cheese, tomato & donner meat
£11.30
Ham & Chicken Pizza 11" Deep
Turkey ham & chicken
£8.80
Ham & Chicken Pizza 11" Thin
Turkey ham & chicken
£7.80
Ham & Chicken Pizza 16" Thin
Turkey ham & chicken
£11.30
Ham & Mushroom Pizza 11" Deep
Turkey ham & mushrooms
£8.80
Ham & Mushroom Pizza 11" Thin
Turkey ham & mushrooms
£7.80
Ham & Mushroom Pizza 16" Thin
Turkey ham & mushrooms
£11.30
Ham & Pineapple Pizza 11" Deep
Turkey ham & pineapple
£8.80
Ham & Pineapple Pizza 11" Thin
Turkey ham & pineapple
£7.80
Ham & Pineapple Pizza 16" Thin
Turkey ham & pineapple
£11.30
Taj Mahal Special 11" Deep
Cheese, tomato & little bit of everything
£8.80
Taj Mahal Special 11" Thin
Cheese, tomato & little bit of everything
£7.80
Taj Mahal Special 16" Thin
Cheese, tomato & little bit of everything
£11.30
Tandoori Pizza 11" Deep
Cheese, tomato, tandoori chicken, green peppers, onions, sweetcorn & red chillies
£8.80
Tandoori Pizza 11" Thin
Cheese, tomato, tandoori chicken, green peppers, onions, sweetcorn & red chillies
£7.80
Tandoori Pizza 16" Thin
Cheese, tomato, tandoori chicken, green peppers, onions, sweetcorn & red chillies
£11.30
Half & Half Pizza 11" Deep
Excluding Bash special
£8.80
Half & Half Pizza 11" Thin
Excluding Bash special
£7.80
Half & Half Pizza 16" Thin
Excluding Bash special
£11.30
Mixed Kebab in Pitta
Mixture of any two of the above kebabs & cooked with onions
£6.80
Donner Kebab in Pitta Large
Tender slices of mixed meats with a blend of exotic spices
£5.80
Donner Kebab in Pitta Medium
Tender slices of mixed meats with a blend of exotic spices
£4.80
Donner Kebab in Pitta X-Large
Tender slices of mixed meats with a blend of exotic spices
£6.30
Chicken Kebab in Pitta
Tender cubes of chicken tikka cooked with onions
£6.80
Rogan Josh Beef
Chicken*Beef*Keema*Mushroom*Vegetable
Rogan Josh Chicken
Chicken*Beef*Keema*Mushroom*Vegetable
Rogan Josh Keema
Chicken*Beef*Keema*Mushroom*Vegetable
Rogan Josh Mushroom
Chicken*Beef*Keema*Mushroom*Vegetable
Rogan Josh Vegetable
Chicken*Beef*Keema*Mushroom*Vegetable
Topping Chicken
Chicken*Donner Meat*Fresh Tomatoes*Garlic Butter*Green Pepper*Italian Herbs*Jalapenos*Minced Beef*Mushrooms*Onions*Pepperoni*Pineapple*Prawn*Red Chillies*Salami*Spicy Chicken*Spicy Ground Beef*Sweetcorn*Tandoori Chicken*Tuna*Turkey Ham
Topping Donner Meat
Chicken*Donner Meat*Fresh Tomatoes*Garlic Butter*Green Pepper*Italian Herbs*Jalapenos*Minced Beef*Mushrooms*Onions*Pepperoni*Pineapple*Prawn*Red Chillies*Salami*Spicy Chicken*Spicy Ground Beef*Sweetcorn*Tandoori Chicken*Tuna*Turkey Ham
Topping Fresh Tomatoes
Chicken*Donner Meat*Fresh Tomatoes*Garlic Butter*Green Pepper*Italian Herbs*Jalapenos*Minced Beef*Mushrooms*Onions*Pepperoni*Pineapple*Prawn*Red Chillies*Salami*Spicy Chicken*Spicy Ground Beef*Sweetcorn*Tandoori Chicken*Tuna*Turkey Ham
Topping Garlic Butter
Chicken*Donner Meat*Fresh Tomatoes*Garlic Butter*Green Pepper*Italian Herbs*Jalapenos*Minced Beef*Mushrooms*Onions*Pepperoni*Pineapple*Prawn*Red Chillies*Salami*Spicy Chicken*Spicy Ground Beef*Sweetcorn*Tandoori Chicken*Tuna*Turkey Ham
Topping Green Pepper
Chicken*Donner Meat*Fresh Tomatoes*Garlic Butter*Green Pepper*Italian Herbs*Jalapenos*Minced Beef*Mushrooms*Onions*Pepperoni*Pineapple*Prawn*Red Chillies*Salami*Spicy Chicken*Spicy Ground Beef*Sweetcorn*Tandoori Chicken*Tuna*Turkey Ham
Topping Italian Herbs
Chicken*Donner Meat*Fresh Tomatoes*Garlic Butter*Green Pepper*Italian Herbs*Jalapenos*Minced Beef*Mushrooms*Onions*Pepperoni*Pineapple*Prawn*Red Chillies*Salami*Spicy Chicken*Spicy Ground Beef*Sweetcorn*Tandoori Chicken*Tuna*Turkey Ham
Topping Jalapenos
Chicken*Donner Meat*Fresh Tomatoes*Garlic Butter*Green Pepper*Italian Herbs*Jalapenos*Minced Beef*Mushrooms*Onions*Pepperoni*Pineapple*Prawn*Red Chillies*Salami*Spicy Chicken*Spicy Ground Beef*Sweetcorn*Tandoori Chicken*Tuna*Turkey Ham
Topping Minced Beef
Chicken*Donner Meat*Fresh Tomatoes*Garlic Butter*Green Pepper*Italian Herbs*Jalapenos*Minced Beef*Mushrooms*Onions*Pepperoni*Pineapple*Prawn*Red Chillies*Salami*Spicy Chicken*Spicy Ground Beef*Sweetcorn*Tandoori Chicken*Tuna*Turkey Ham
Topping Mushrooms
Chicken*Donner Meat*Fresh Tomatoes*Garlic Butter*Green Pepper*Italian Herbs*Jalapenos*Minced Beef*Mushrooms*Onions*Pepperoni*Pineapple*Prawn*Red Chillies*Salami*Spicy Chicken*Spicy Ground Beef*Sweetcorn*Tandoori Chicken*Tuna*Turkey Ham
Topping Onions
Chicken*Donner Meat*Fresh Tomatoes*Garlic Butter*Green Pepper*Italian Herbs*Jalapenos*Minced Beef*Mushrooms*Onions*Pepperoni*Pineapple*Prawn*Red Chillies*Salami*Spicy Chicken*Spicy Ground Beef*Sweetcorn*Tandoori Chicken*Tuna*Turkey Ham
Topping Pepperoni
Chicken*Donner Meat*Fresh Tomatoes*Garlic Butter*Green Pepper*Italian Herbs*Jalapenos*Minced Beef*Mushrooms*Onions*Pepperoni*Pineapple*Prawn*Red Chillies*Salami*Spicy Chicken*Spicy Ground Beef*Sweetcorn*Tandoori Chicken*Tuna*Turkey Ham
Topping Pineapple
Chicken*Donner Meat*Fresh Tomatoes*Garlic Butter*Green Pepper*Italian Herbs*Jalapenos*Minced Beef*Mushrooms*Onions*Pepperoni*Pineapple*Prawn*Red Chillies*Salami*Spicy Chicken*Spicy Ground Beef*Sweetcorn*Tandoori Chicken*Tuna*Turkey Ham
Topping Prawn
Chicken*Donner Meat*Fresh Tomatoes*Garlic Butter*Green Pepper*Italian Herbs*Jalapenos*Minced Beef*Mushrooms*Onions*Pepperoni*Pineapple*Prawn*Red Chillies*Salami*Spicy Chicken*Spicy Ground Beef*Sweetcorn*Tandoori Chicken*Tuna*Turkey Ham
Topping Red Chillies
Chicken*Donner Meat*Fresh Tomatoes*Garlic Butter*Green Pepper*Italian Herbs*Jalapenos*Minced Beef*Mushrooms*Onions*Pepperoni*Pineapple*Prawn*Red Chillies*Salami*Spicy Chicken*Spicy Ground Beef*Sweetcorn*Tandoori Chicken*Tuna*Turkey Ham
Topping Salami
Chicken*Donner Meat*Fresh Tomatoes*Garlic Butter*Green Pepper*Italian Herbs*Jalapenos*Minced Beef*Mushrooms*Onions*Pepperoni*Pineapple*Prawn*Red Chillies*Salami*Spicy Chicken*Spicy Ground Beef*Sweetcorn*Tandoori Chicken*Tuna*Turkey Ham
Topping Spicy Chicken
Chicken*Donner Meat*Fresh Tomatoes*Garlic Butter*Green Pepper*Italian Herbs*Jalapenos*Minced Beef*Mushrooms*Onions*Pepperoni*Pineapple*Prawn*Red Chillies*Salami*Spicy Chicken*Spicy Ground Beef*Sweetcorn*Tandoori Chicken*Tuna*Turkey Ham
Topping Spicy Ground Beef
Chicken*Donner Meat*Fresh Tomatoes*Garlic Butter*Green Pepper*Italian Herbs*Jalapenos*Minced Beef*Mushrooms*Onions*Pepperoni*Pineapple*Prawn*Red Chillies*Salami*Spicy Chicken*Spicy Ground Beef*Sweetcorn*Tandoori Chicken*Tuna*Turkey Ham
Topping Sweetcorn
Chicken*Donner Meat*Fresh Tomatoes*Garlic Butter*Green Pepper*Italian Herbs*Jalapenos*Minced Beef*Mushrooms*Onions*Pepperoni*Pineapple*Prawn*Red Chillies*Salami*Spicy Chicken*Spicy Ground Beef*Sweetcorn*Tandoori Chicken*Tuna*Turkey Ham
Topping Tandoori Chicken
Chicken*Donner Meat*Fresh Tomatoes*Garlic Butter*Green Pepper*Italian Herbs*Jalapenos*Minced Beef*Mushrooms*Onions*Pepperoni*Pineapple*Prawn*Red Chillies*Salami*Spicy Chicken*Spicy Ground Beef*Sweetcorn*Tandoori Chicken*Tuna*Turkey Ham
Topping Tuna
Chicken*Donner Meat*Fresh Tomatoes*Garlic Butter*Green Pepper*Italian Herbs*Jalapenos*Minced Beef*Mushrooms*Onions*Pepperoni*Pineapple*Prawn*Red Chillies*Salami*Spicy Chicken*Spicy Ground Beef*Sweetcorn*Tandoori Chicken*Tuna*Turkey Ham
Topping Turkey Ham
Chicken*Donner Meat*Fresh Tomatoes*Garlic Butter*Green Pepper*Italian Herbs*Jalapenos*Minced Beef*Mushrooms*Onions*Pepperoni*Pineapple*Prawn*Red Chillies*Salami*Spicy Chicken*Spicy Ground Beef*Sweetcorn*Tandoori Chicken*Tuna*Turkey Ham
Bhuna Beef
Chicken*Beef*Keema*Mushroom*Vegetable
Bhuna Chicken
Chicken*Beef*Keema*Mushroom*Vegetable
Bhuna Keema
Chicken*Beef*Keema*Mushroom*Vegetable
Bhuna Mushroom
Chicken*Beef*Keema*Mushroom*Vegetable
Bhuna Vegetable
Chicken*Beef*Keema*Mushroom*Vegetable
Margherita 1st Half Pizza
Margherita 2nd Half Pizza
Garlic Margherita 1st Half Pizza
Garlic Margherita 2nd Half Pizza
Cheese & Onion 1st Half Pizza
Cheese & Onion 2nd Half Pizza
Meat Feast 1st Half Pizza
Meat Feast 2nd Half Pizza
Hot & Spicy 1st Half Pizza
Hot & Spicy 2nd Half Pizza
Pollo Funghi 1st Half Pizza
Pollo Funghi 2nd Half Pizza
Quatro Stagione 1st Half Pizza
Quatro Stagione 2nd Half Pizza
Vegetable Special 1st Half Pizza
Vegetable Special 2nd Half Pizza
Quatro Formaggi 1st Half Pizza
Quatro Formaggi 2nd Half Pizza
Eastern Hot 1st Half Pizza
Eastern Hot 2nd Half Pizza
Western Hot 1st Half Pizza
Western Hot 2nd Half Pizza
Taj Mahal Special 1st Half Pizza
Taj Mahal Special 2nd Half Pizza
Ham & Pineapple Pizza 1st Half Pizza
Ham & Pineapple Pizza 2nd Half Pizza
Ham & Mushroom Pizza 1st Half Pizza
Ham & Mushroom Pizza 2nd Half Pizza
Ham & Chicken Pizza 1st Half Pizza
Ham & Chicken Pizza 2nd Half Pizza
Jalfrezi Beef
Egg, tomatoes, coriander, onion & spices. A dry dish
£8.30
Jalfrezi Chicken
Egg, tomatoes, coriander, onion & spices. A dry dish
£8.30
Jalfrezi Keema
Egg, tomatoes, coriander, onion & spices. A dry dish
£8.30
Jalfrezi King Prawn
Egg, tomatoes, coriander, onion & spices. A dry dish
£9.20
Jalfrezi Mixed
Egg, tomatoes, coriander, onion & spices. A dry dish
£8.80
Jalfrezi Prawn
Egg, tomatoes, coriander, onion & spices. A dry dish
£8.80
Garlic Chilli Chicken
Chicken tikka with fresh garlic, chilli, coriander & chillies in a thick sauce
£8.80
Karahi Keema
Cooked with onions, green peppers & fresh tomatoes. Delicately cooked in an Indian style wok with specially selected herbs, spices & coriander
£8.30
Karahi Beef
Cooked with onions, green peppers & fresh tomatoes. Delicately cooked in an Indian style wok with specially selected herbs, spices & coriander
£8.30
Karahi Chicken Tikka
Cooked with onions, green peppers & fresh tomatoes. Delicately cooked in an Indian style wok with specially selected herbs, spices & coriander
£8.30
Karahi King Prawn
Cooked with onions, green peppers & fresh tomatoes. Delicately cooked in an Indian style wok with specially selected herbs, spices & coriander
£9.20
Karahi Mixed
Cooked with onions, green peppers & fresh tomatoes. Delicately cooked in an Indian style wok with specially selected herbs, spices & coriander
£8.80
Karahi Prawn
Cooked with onions, green peppers & fresh tomatoes. Delicately cooked in an Indian style wok with specially selected herbs, spices & coriander
£8.80
Balti Keema
These dishes are specially prepared with fresh garlic, ginger, tomatoes, onions, green chillies, fresh coriander, herbs & spices to give you a perfection of oriental taste. Cooked in a traditional balti
£8.30
Balti Beef
These dishes are specially prepared with fresh garlic, ginger, tomatoes, onions, green chillies, fresh coriander, herbs & spices to give you a perfection of oriental taste. Cooked in a traditional balti
£8.30
Balti Chicken
These dishes are specially prepared with fresh garlic, ginger, tomatoes, onions, green chillies, fresh coriander, herbs & spices to give you a perfection of oriental taste. Cooked in a traditional balti
£8.30
Balti King Prawn
These dishes are specially prepared with fresh garlic, ginger, tomatoes, onions, green chillies, fresh coriander, herbs & spices to give you a perfection of oriental taste. Cooked in a traditional balti
£9.20
Balti Mixed
These dishes are specially prepared with fresh garlic, ginger, tomatoes, onions, green chillies, fresh coriander, herbs & spices to give you a perfection of oriental taste. Cooked in a traditional balti
£8.80
Balti Prawn
These dishes are specially prepared with fresh garlic, ginger, tomatoes, onions, green chillies, fresh coriander, herbs & spices to give you a perfection of oriental taste. Cooked in a traditional balti
£8.80
Asian Style Beef
Diced pieces of beef OR chicken cooked in Asian style with green chillies, garlic, extra coriander & fresh gee
£8.80
Asian Style Chicken
Diced pieces of beef OR chicken cooked in Asian style with green chillies, garlic, extra coriander & fresh gee
£8.80
Tandoori Massala Keema
These dishes obtain their exquisite taste from being double cooked, first in a special charcoal oven & then in an exotic massala sauce prepared from oriental spices with fresh tomatoes & coriander
£8.30
Tandoori Massala Beef Tikka
These dishes obtain their exquisite taste from being double cooked, first in a special charcoal oven & then in an exotic massala sauce prepared from oriental spices with fresh tomatoes & coriander
£8.30
Tandoori Massala Chicken Tikka
These dishes obtain their exquisite taste from being double cooked, first in a special charcoal oven & then in an exotic massala sauce prepared from oriental spices with fresh tomatoes & coriander
£8.30
Tandoori Massala King Prawn
These dishes obtain their exquisite taste from being double cooked, first in a special charcoal oven & then in an exotic massala sauce prepared from oriental spices with fresh tomatoes & coriander
£9.20
Tandoori Massala Mixed
These dishes obtain their exquisite taste from being double cooked, first in a special charcoal oven & then in an exotic massala sauce prepared from oriental spices with fresh tomatoes & coriander
£8.80
Tandoori Massala Prawn
These dishes obtain their exquisite taste from being double cooked, first in a special charcoal oven & then in an exotic massala sauce prepared from oriental spices with fresh tomatoes & coriander
£8.80
Tikka Rogan Josh Keema
A special preparation of meats cooked first in charcoal oven then with pimento & garlic, garnished with fried tomatoes & coriander
£8.30
Tikka Rogan Josh Beef Tikka
A special preparation of meats cooked first in charcoal oven then with pimento & garlic, garnished with fried tomatoes & coriander
£8.30
Tikka Rogan Josh Chicken Tikka
A special preparation of meats cooked first in charcoal oven then with pimento & garlic, garnished with fried tomatoes & coriander
£8.30
Tikka Rogan Josh King Prawn
A special preparation of meats cooked first in charcoal oven then with pimento & garlic, garnished with fried tomatoes & coriander
£9.20
Tikka Rogan Josh Mixed
A special preparation of meats cooked first in charcoal oven then with pimento & garlic, garnished with fried tomatoes & coriander
£8.80
Tikka Rogan Josh Prawn
A special preparation of meats cooked first in charcoal oven then with pimento & garlic, garnished with fried tomatoes & coriander
£8.80
Raja Dish Beef
Beef OR chicken mixed with spinach, garlic, green chillies, spices, extra coriander & fresh gee
£8.80
Raja Dish Chicken
Beef OR chicken mixed with spinach, garlic, green chillies, spices, extra coriander & fresh gee
£8.80
Makhani Beef Tikka
Beef OR chicken tikka cooked in a rich, creamy & cheesy sauce. Sweet
May contain nuts
£9.20
Makhani Chicken Tikka
Beef OR chicken tikka cooked in a rich, creamy & cheesy sauce. Sweet
May contain nuts
£9.20
Passanda Beef Tikka
Beef OR chicken tikka cooked with herbs, spices, coconut cream, almonds & cream. May contain nuts
£9.20
Passanda Chicken Tikka
Beef OR chicken tikka cooked with herbs, spices, coconut cream, almonds & cream. May contain nuts
£9.20
Balti Mushroom
These dishes are specially prepared with fresh garlic, ginger, tomatoes, onions, green chillies, fresh coriander, herbs & spices to give you a perfection of oriental taste. Cooked in a traditional balti
£9.00
Balti Vegetable
These dishes are specially prepared with fresh garlic, ginger, tomatoes, onions, green chillies, fresh coriander, herbs & spices to give you a perfection of oriental taste. Cooked in a traditional balti
£9.00
Karahi Mushroom
Cooked with onions, green peppers & fresh tomatoes. Delicately cooked in an Indian style wok with specially selected herbs, spices & coriander
£9.00
Karahi Vegetable
Cooked with onions, green peppers & fresh tomatoes. Delicately cooked in an Indian style wok with specially selected herbs, spices & coriander
£9.00
Jalfrezi Mushroom
Egg, tomatoes, coriander, onion & spices. A dry dish
£9.00
Jalfrezi Vegetable
Egg, tomatoes, coriander, onion & spices. A dry dish
£9.00
Tandoori Massala Mushroom
These dishes obtain their exquisite taste from being double cooked, first in a special charcoal oven & then in an exotic massala sauce prepared from oriental spices with fresh tomatoes & coriander
£9.00
Tandoori Massala Vegetable
These dishes obtain their exquisite taste from being double cooked, first in a special charcoal oven & then in an exotic massala sauce prepared from oriental spices with fresh tomatoes & coriander
£9.00
Tikka Rogan Josh Mushroom
A special preparation of meats cooked first in charcoal oven then with pimento & garlic, garnished with fried tomatoes & coriander
£9.00
Tikka Rogan Josh Vegetable
A special preparation of meats cooked first in charcoal oven then with pimento & garlic, garnished with fried tomatoes & coriander
£9.00
Raitha
Yoghurt with onions, tomatoes, cucumber & spices
£2.60
Mixed Pickle
Mangoes, lime & chillies in a spicy pickle
£1.30
Garlic Bread Pomadoro
With tomato sauce
£3.30
Garlic Bread Supreme
With cheese
£3.50
Chicken Korma Pizza 11" Thin
£7.90
Chicken Korma Pizza 16" Thin
£12.30
Chicken Bhuna Pizza 11" Deep
£8.90
Chicken Bhuna Pizza 11" Thin
£7.90
Chicken Bhuna Pizza 16" Thin
£12.30
Chicken Tikka Masala Pizza 11" Deep
£8.90
Chicken Tikka Masala Pizza 11" Thin
£7.90
Chicken Tikka Masala Pizza 16" Thin
£12.30
Any 4 Toppings of Your Choice Pizza 11" Deep
£8.90
Any 4 Toppings of Your Choice Pizza 11" Thin
£7.90
Any 4 Toppings of Your Choice Pizza 16" Thin
£12.30
Raja Supreme Pizza 11" Deep
Chicken tikka, onions, seekh kebab, green chilli, sweetcorn & jalapenos
£8.90
Raja Supreme Pizza 11" Thin
Chicken tikka, onions, seekh kebab, green chilli, sweetcorn & jalapenos
£7.90
Raja Supreme Pizza 16" Thin
Chicken tikka, onions, seekh kebab, green chilli, sweetcorn & jalapenos
£12.30
Party Bucket
10 pieces of chicken, 2 chips, coleslaw, garlic mayo & bottle of pop
£12.30
Chicken Nuggets (10) & Chips
£5.80
1 Piece of Chicken & Chips
£3.80
2 Pieces of Chicken & Chips
£4.70
3 Pieces of Chicken & Chips
£5.50
4 Pieces of Chicken & Chips
£7.10
Family Pack
6 Pieces of chicken & 2 chips
£8.30
Boiled Rice
Plain boiled rice
£1.70
Egg Fried Rice
With a touch of spice & onions
£3.20
Mushroom Fried Rice
With a touch of spice & onions
£3.20
Fried Rice
With a touch of spice & onions
£2.70
Pilau Rice
Specially cooked rice with traditional spices
£2.30
Donner Calzone
Donner meat
£7.30
Calzone Kiev
Chicken, Italian pepperoni, mushrooms, garlic butter & sweetcorn
£7.30
Calzone Special
A bit of everything
£7.80
Plain Nan
Leavend bread cooked in a special oven
£3.30
Peshwari Nan
Sulatanas, coocnut, almonds & cream
May contain nuts
£4.00
Special Taj Mix on Nan
Donner meat, chicken tikka & beef tikka. Served with chips & Pepsi
£8.30
Mixed Kebab on Nan
Chicken TIkka & Donner Meat
£7.50
Contact Us
Find Us
112a Queen's Park Drive, Castleford, WF103DQ
We deliver to
LS25, LS26, WF10, WF11, WF6, WF7, WF8